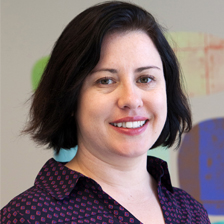 About Alexandra
Alexandra Céspedes Kent currently serves as development director for Good Samaritan Family Resource Center, an organization that supports immigrants in the Mission and Bayview Districts of San Francisco. 
Previously, Alexandra oversaw programs, partnerships, and curriculum for CORO Northern California, a nonprofit that designs and offers hands-on leadership experiences to people and organizations interested in improving their communities. 
From 2007-2011 and again in 2014, Alexandra worked at Encore.org, most notably as director of The Purpose Prize, a multi-million dollar initiative that identifies, invests in, and brings together innovators over the age of 60 who are solving major social problems in their encore careers. A commentator for NPR called the program "a kind of MacArthur genius award for retirees." Prior to her time at Encore.org, Alexandra led CORO's part-time fellowship programs and managed the asset-building team at Juma Ventures, a social enterprise serving teens. Alexandra participated in CompassPoint's inaugural East Bay Multicultural Board Leadership Academy and is a graduate of Amherst College.