In addition to the 200 workshops CompassPoint delivers annually, you can also bring us in-house for trainings specifically for your staff – from a one-day Supervision workshop for your managers to a series on creating a culture of shared leadership within your organization. Here's how we used in-house training to improve how the Center for Youth Wellness communicates its financial data:
---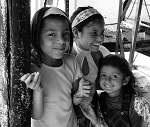 The Center for Youth Wellness (CYW) in San Francisco has grown quickly from its inception two years ago as a health and wellness center that is part of a national effort to revolutionize pediatric medicine and transform the way society responds to kids.  And with that rapid growth they've built strong financial management systems. As CYW Project Manager Megan O'Meara explains, "We felt we could improve how we were presenting our financial information to the CEO, board, and senior leadership. We consistently erred on the side of too much information, and as a result ended up with a lot more questions than answers every month."
The CEO, board, and finance team knew they needed a training to align them on how to interpret financial information. Megan adds, "I've been in financial trainings before and they can be pretty theoretical. That was absolutely not what we needed. We needed someone to answer real world questions and give us templates and tools to better understand the numbers." CompassPoint Project Director Shannon Ellis did just that.
Shannon designed and led a customized one-day workshop for the leadership team that used CYW's actual budget numbers; she also gave the finance team new templates for presenting financial data. Megan says, "Shannon figured out exactly what we needed to know and was able to answer questions in a way that everyone understood."
Now, Megan says, the Center's leadership meetings are "100% more productive. When our CEO can quickly digest the finances and ask three questions instead of ten, it gives her more time to think strategically in terms of the organization, fundraising, and spending. It's the backbone that allows all the programs to happen."
Building this financial muscle was a key starting place for the finance team and they plan to extend these skills to their senior leaders next. "We're an organization with a really good financial machine. We were struggling with effectively communicating our financial position, and CompassPoint was a great fit to help us meet that challenge."
---
To learn more about CompassPoint in-house trainings, contact Paola Cubias, paolac@compasspoint.org.