In this blog, Amy Benson talks about the importance of good instructional design in adult learning. As a project coordinator and trainer in CompassPoint's workshops program (and as someone who just learned to ride a bike after multiple attempts over the last thirty years), it's something she knows a lot about.
---
A couple of weeks ago, on a beautiful September Saturday morning, I took a 3-hour class and learned to do something new. It was something that has intimidated me for a long time, and also something I thought I might never learn how to do. Friendly blog readers, I finally learned to ride a bike at the age of 35.
I tried to learn when I was a kid and after I fell off once and it hurt, I was done. But everyone's always telling me how great bikes are! They're environmental, they're healthy, they're fun... So every couple of years, I borrow a bike from a friend, find a low-traffic alley or parking lot and try to ride. This is what that looks like: me, helmet on, determination up, getting on the bike—followed by me, standing over the bike, not sure what to do next, fumbling for the pedals, falling off to the side. Repeat a few times. Then, it's me, discouraged, taking off the helmet, thinking to myself, "I guess I'll never ride a bike."
What is Instructional Design?
Here's what was different that special Saturday a few weekends ago: instructional design. The will to learn and the tools to learn (bike, helmet, parking lot) are great and important, but they're not enough. The instructors at Bike East Bay who taught that free "adult learn to ride" class took the time to think through the steps to riding a bike, and then they broke them down, one at a time, over the span of a 3-hour class: Here's how to get on and off;  here's how to brake; here's how to glide. Okay, now try finding the pedal while you're gliding. And then finally, by the end of the 3 hours, find the pedals and use them. You're riding!
The Importance of Task Analysis and Audience Analysis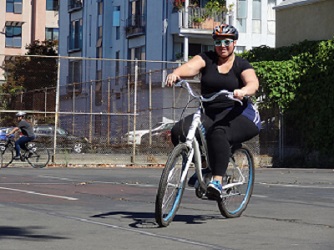 We think through the steps of how to do a complex task every day on the workshops team at CompassPoint. Facilitating a successful meeting, recruiting new board members, interpersonal communication—how do you break them down into smaller, more doable steps? That's called a "task analysis," and it's one of the things you do in our upcoming class Train the Trainers: Designing an Effective Learning Program. You also do an "audience analysis." If the good people at Bike East Bay did that before my class, they probably realized I felt nervous and awkward, and that my heart would be truly warmed to meet 11 other adults who also never learned to ride!
In the end, a few hours of intentional and thoughtful step-by-step instruction made the difference for me between frustration and success. I'm not road-worthy yet, but I can ride a bike. And that's life-changing. I'm incredibly grateful. Thanks, Bike East Bay, and thanks instructional design!
This blog piece is dedicated to anyone who was ever truly bad at gym class.
 
---
Amy Benson is a project coordinator at CompassPoint. Amy provides customer service and support to CompassPoint workshop attendees. She also writes and trains in the area of interpersonal and organizational communications and co-leads CompassPoint's Multicultural Organizational Development Team.
Resources
Read Amy's Past Blogs
Photo credit: Rachel Jacobson, Bike East Bay