In this first of two blog posts on individual and organizational strategy, CompassPoint Senior Project Director Michelle Gislason connects the dots between how determining your personal purpose can contribute to your organizational direction. In Part 2, Shannon Ellis and Marissa Tirona will explore the intersection between organizational strategy and power and privilege.
---
I consider myself a pretty lucky gal because I get to do what I love. What I love is working with people to identify and embrace their strengths and to help them to ask others for support and what they need in order to step into larger leadership roles in their work for social justice. It took many years, a lot of rigorous reflection, feedback from colleagues, some missteps, and spectacular failures along the way to become this clear on my personal purpose.

Purpose is the motivating force for achievement. When you are doing something which serves your purpose, you are at your best. We cannot use what we learn without the fire of purpose in our hearts. – Sun Tzu
What makes me even luckier is that I work for an organization that is aligned with this purpose. An example of this alignment is the work we do together with the Strong Field Project Leadership Development Program (more on this later). Being clear about the direction the organization is going and its alignment with my goals frees me up to contribute and adapt in ways that are meaningful to both the work and to me. I recognize I hold tremendous privilege when doing what I love intersects with the purpose of my organization. And yet, even if that intersection weren't fully realized, being clear on my own purpose places me in a better position to identify how (if at all) I can partner with my organization to clarify its purpose.
The Connnection Between Individual and Organizational Purpose
In early February, participants of the Strong Field Project convened in Half Moon Bay to explore the connections between individual purpose and organizational direction. CompassPoint's Shannon Ellis referenced the work of Jim Collins who stresses that clarification of personal purpose and values is a critical contributing factor to buy-in and connection to organizational purpose.

Organizations that are clear at their core hold themselves together because of their deep congruence. People are free to explore new avenues of activity, new ventures and customers in ways that make sense for the organization. It is a strange and promising paradox of living systems: Clarity about who we are as a group creates freedom for individual contributions. People exercise that freedom in the service of the organization, and their capacity to respond and change becomes a capability of the whole organization. – Margaret Wheatley
 
How do you determine shared purpose? First, clarify what you stand for and what you believe in. What is your stance? Your vision for change? Your voice? Finding your voice is essential to authentic leadership. As poet David Whyte writes, "Voice throws us back on what we want for out of life. It forces us to ask ourselves, Who is speaking? Who came to work today? Who is working towards what? What do I really care about?" It's important to answer these questions for yourself in order to find your true voice. In leadership development terms, it starts with self awareness and self management (leading self). It answers the question, "Who am I and what can I offer to this work?"
Connecting "I Can" to "We Can"
To gain greater clarity on personal purpose, we asked Strong Field alumna Elizabeth Eastlund from Rainbow Services to lead the current cohort in an activity called, "I Can We Can." I CAN WE CAN (ICWC) is a socially engaged art project created by A Window Between Worlds to strengthen, connect, and expand the community of individuals united to end domestic violence and sexual assault. ICWC, which has engaged over 10,000 participants, invites survivors, advocates, and community members to create art as a symbol of solidarity and commitment to doing what they can to help end abuse (examples at right and below). By sharing the evolution of I CANs over time, we witness and support a change in ourselves and our community. Some of the I CAN statements created at our gathering include the following: I CAN create expansiveness; I CAN bridge cultures; I CAN bring hope; I CAN share tears; I CAN laugh.
Starting with I CAN means starting with purpose and with personal values. Consider these reflection questions:
What energizes me?
What do I value?
Where do I spend my time now? Where do I WANT to spend my time?
What impact am I hoping to make in the world?
Once clear on this, we can pivot from what I can do to what we can do collectively. And this brings us to identifying our shared purpose as an organization. According to Jim Collins, core purpose is the organization's reason for being:
"It captures the soul of the organization. In other words, why are we here? As we investigate this, we inevitably conclude that a group of people get together and exist as an organization so they are able to accomplish something collectively that they could not accomplish separately. Purpose (which should last at least 100 years) should not be confused with specific goals or business strategies (which should change many times in 100 years). Whereas you might achieve a goal or complete a strategy, you cannot fulfill a purpose; it is like a guiding star on the horizon -- forever pursued but never reached. Although purpose itself does not change, it does inspire change. The very fact that purpose can never be fully realized means that an organization can never stop stimulating change and progress."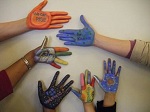 WE CAN rise together…for Empathy (Ivy Panlilio), 4 Justice (Sharon Turner), for the Voiceless (Colsaria Henderson), for equality (Alma Borja), for kindness (Kate Hart)
One powerful method for defining purpose is the "nine whys" exercise. Start with the descriptive statement, "We deliver X services," and then ask, "Why is that important?" Answer this question nine times. After a few whys, you'll find that you start to get down to the fundamental purpose of the organization.
As Shannon Ellis wrote in a recent CompassPoint blog on strategy, "As we all continue to experiment and find our balance in this shifting landscape, we're beginning to recognize that it's not about doing more with less – it's about doing more of what matters most." In CompassPoint's case, what matters most is achieving social equity through effective leaders, organizations, and networks. We also believe that it matters that leaders exist at all levels and can influence an organization, a network, or a movement, regardless of title or tenure. As I have shared, my personal purpose aligns nicely with this.  
How clear are you on what matters most to you? To your organization? What needs tending?
In Part 2, we'll explore the intersection between organizational strategy and power and privilege.
---
Michelle Gislason, MA, is a Senior Project Director at CompassPoint Nonprofit Services. She is responsible for the program creation and management of several of CompassPoint's leadership programs, including the Coaching and Philanthropy Initiative, the Blue Shield of California Foundation Strong Field Project, and the Leadership Development Program for Executives Serving Transition-Age Youth. Follow her on Twitter at @mdgislason #strongfield #art2enddv.
Resources on Strategy