Emily Cohen Raskin is the executive director of O2 Initiatives, where she directs the O2 Sabbatical Award program. In addition to her role with O2 Initiatives, she also serves as Senior Associate at Hirsch & Associates, an advisory firm that works with families, foundations, and corporations to maximize the impact of their philanthropy. 
In this guest blog, Emily talks about the value of sabbaticals for both recipients and their organizations. O2 just launched the inaugural year of its Sabbatical Award. CompassPoint is pleased to be providing coaching to recipients and their organizations to help them make the most of this opportunity to reflect, stretch, and grow.
---
The Value of Sabbaticals
Our goal in creating this annual Sabbatical Award is not only to support exceptional nonprofit executive directors, but also to create stronger teams and more resilient organizations.
We're excited to see that already, months before any of the executive directors has left on sabbatical, the preparations are engendering healthy internal conversations about how to distribute leadership within each of these organizations. "It's a moment for us to figure out how we can build an even more trusting, supportive, and shared leadership structure," says awardee Julia R. Wilson of OneJustice.
Building Organizational Bench Strength Beyond the ED
When we opened the award applications last May, one frequently asked question was whether an organization could contract an outside interim director during an executive director's sabbatical. We said no, because the point is not to replace the absent executive director, but to encourage leadership to emerge from the senior management team. That's why we're working with CompassPoint to offer participants and their organizations support in creating a plan to transfer duties and responsibilities, forecast key decisions, provide consultation during the sabbatical, and facilitate organizational learning after the sabbatical is over.
A Time to Reflect and Re-energize for the Recipient and Their Organization
We were also asked if awardees could take a shorter sabbatical or use the sabbatical for professional development. Some also wondered if we really required the executive directors to completely disconnect from their organizations during the sabbatical. We emphasized that a key feature of the sabbatical award is the rare opportunity for substantial time off, where leaders are truly released from responsibility.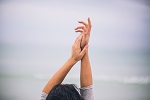 We believe that's the best way for executive directors to come back re-energized and for staff to grow. We were inspired by the groundbreaking work of the Durfee Foundation Sabbatical Program in Los Angeles and their learning about the value of "creative disruption" for their grantee organizations. (For more on creative disruption, see this study coauthored by CompassPoint's Tim Wolfred.) 
Awardee Regina Jackson of East Oakland Youth Development Center echoes our rationale: "What I'm most excited about is the power, possibility and capability of my staff. It's a chance for them to shine. Sometimes you don't know what you're capable of until you have to. And as a leader, sometimes you don't know how much you are in the way, or what ideas are stifled."
Our awardees' sabbatical plans include time with family, international travel, soccer classes and yoga retreats, and even, for Judith Smith of AXIS Dance Company, raising butterflies. We're thrilled they will have a real break where each awardee can, in the words of José Quiñonez of Mission Asset Fund, "reflect, breathe, and get ready for many more years" of dedicated leadership.
---
Resources
Learn more about sabbaticals through these resources:
Emily Cohen Raskin is executive director of O2 Initiatives. O2 Initiatives will begin accepting applications for the next round of sabbatical awards in May.