Last week, in "
Think Like a Surfer: Part One of a Two-Part Series on Organizational Strategy
," Shannon Ellis wrote about the powerful and turbulent waters we're navigating as nonprofits, and reflected on some of the leadership capacities it takes to harness that power to effect lasting change. This week, in Part Two, she discusses the five practices she sees in common among organizations that are successful in surfing through these changes.
---
At CompassPoint we've seen some organizations flailing in these changing currents, wondering why they are now struggling in the ocean liner – or kayak – that has gotten them this far. These are the staff and board members who say, "Why can't we keep doing things the way we've always done them? We've been successful so far." And then there are other organizations – new and old, big and small – that have been able to effectively build upon the power of the turbulence, to anticipate its action and ride the energy of the wave to move toward progressive social change. How do they do it? What else makes these organizations' approach different?
As a strategy consultant here at CompassPoint, I've had the opportunity to work in close partnership with many nonprofit leaders, often as they face critical decision points for the future of their organizations and movements. In this work, I've seen five practices that emerge in truly effective strategy-formation processes. These are the surfers' strategies that contribute to creating lasting and meaningful change in the organization. And just like surfing requires tiny adjustments to balance and posture, embracing these practices is no small feat, and often requires a diligent dedication to small daily shifts in habits, language, and thinking.
1. Be Honest About Your Impact
There is somewhat of a love affair with "impact" these days, at least among institutional funders. In some ways, it's been helpful – to recognize that the key question is not so much about whether you're doing good work (generally, you are), but to focus instead on whether you're actually making a difference (often, this can be more murky). As a sector we've been pushed to get better about defining the specific changes we are driving toward – and even when these are deeply complex shifts and difficult to quantify, having this conversation can provide critical perspective to help guide our work.
But when I talk about being honest, I don't mean getting better at articulating your impact to funders, which may be an important side goal. I mean getting deeply honest with yourself and with each other about what your organization truly does best and where you struggle. It means deep reflection and conversation about whether your current approach is truly moving you toward your mission, or whether you have become attached to particular ways of doing things out of habit and routine. Many organizations that are thriving in this time of rapid change have become crystal clear about what they are truly exceptional at and are committing fully to it. In most cases – especially in situations of dwindling resources – this also means letting go of something that no longer serves your vision of change.
2. Understand Your Business Model
Many organizations that may have gotten by in the past with a relatively loose grasp of their financial operations are recognizing that that grasp can no longer hold. Getting clear about your business model is about getting to a deep understanding of your core activities (both programmatic and revenue-generating), what it truly takes to operate them in an exceptional way, and how they contribute to both your mission impact and your financial viability. As CompassPoint, we use a dual bottom line (mission and money) analysis called the Matrix Map  (read more about it here) to help groups get really clear about both their programmatic impact and the realities of their current funding model. At its heart, setting strategy is about making a series of decisions that drive organizational sustainability – both programmatic (the ability to develop, mature, and cycle out programs to be responsive to constituencies over time) and financial (the ability to generate resources to meet the needs of the present without jeopardizing the future).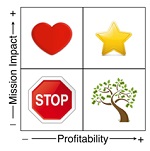 3. Invest in the Future
It's clear that most of the work we're doing as nonprofits will not be achieved in one generation. In our work, for instance, to eradicate racism, end poverty, improve a troubled education system, and dismantle oppression, we are contributing to a multi-generational movement toward social equity. We are contributing to a series of interrelated efforts that are working to build a society that recognizes the value of humanity, diversity, and our deep interconnection with the natural world. The only way our organizations will hold for this kind of long-haul work is to commit – intentionally, meaningfully, and over and over again – to investing in ourselves. What this looks like in the short term is organizations that commit to and achieve small but consistent annual surpluses. What this looks like in the long term is the potential for better resourced, more aligned, and more powerful efforts for social change. I have seen organizations that have successfully built reserves over time that are able to approach their work with a vastly different approach than our typical have-an-idea-and-scramble-for-the-funding model. For example, an immigrant rights group I recently worked with was able to open an office in Washington DC just as the momentum began to build toward immigration reform. Had they needed to wait for specific funding to come through, the opportunity to influence change could have easily been missed.
4. Align Your Team
As we recognize the depth, breadth, and intersection of the issues we are here to address, it becomes more and more clear that we cannot do this alone. As leaders, our job is to build a coalition of people working in a common direction – within our organizations, communities, and broader networks.
As a mom with small children, I often find myself stumbling upon leadership lessons in unexpected places – like at the end of Finding Nemo, when a huge group of fish get caught in a fishing net, where they appear to be doomed to the fate of so many before them. But Nemo, fresh off a long journey that has broadened his perspective, sees a solution. He quickly dedicates himself to spreading the message: "Swim down together!" Guided by this simple and compelling chant, one by one the fish turn to swim in the same direction toward the ocean floor. Slowly, the balance of power shifts and the boat tips more and more until the net releases the fish to their freedom.
5. Dive In
Last but certainly not least, effective strategy execution often requires profound courage from everyone involved – the courage to try and fail, the courage to step into new spaces, the courage to challenge and rethink deeply rooted assumptions about our organizations and ourselves. These conversations are not easy and often can surface conflict and misunderstanding, but organizations that successfully move through these together are the ones that often find innovative new approaches to their work that otherwise may have been unlikely to emerge.   
Of course, much of this is easier said than done. But it generally starts with a deep commitment to change and dedication to a series of small shifts – one fish at a time, you might say – until the tipping point is reached and the organization is swimming in new waters.
---
Shannon Ellis is a Project Director at CompassPoint Nonprofit Services. She consults and trains in the areas of finance and strategy. Shannon will be leading the following workshops in the coming months: Clinic for Nonprofit Sustainability: Making the Hard Decisions for Financial Viability; Budgeting for Programs, Grants, and the Organization; Clinic: Building Your Organizational Budget in Excel; and Clinic: Developing Your Organizational Budget Process.
Read Part I

Resources