This became a refrain while in the midst of analyzing the data for our newly released report: UnderDeveloped: A National Study of Challenges Facing Nonprofit Fundraising (a joint project of CompassPoint and the Evelyn and Walter Haas, Jr. Fund). But this is not a report about recruiting and retaining development staff. At least not entirely. This is about a much deeper problem, what we describe as a vicious cycle that many organizations are caught in: They lack the conditions for fundraising success, which leads to premature development director departure, which creates instability in the development function, ultimately making it harder for an organization to recruit and retain its next development director. And so on…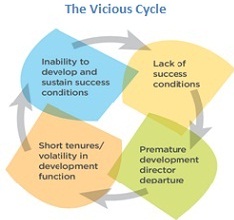 The Adaptive Challenge
The authors of The Practice of Adaptive Leadership (Heifetz, Linsky, and Grashow) said that "The most common cause of failure in leadership is produced by treating adaptive challenges as if they were technical problems." They describe adaptive challenges as complex, systemic, murky problems that require:
changes in people's priorities, beliefs, habits, and loyalties;
 
organizations to clarify their values, develop new strategies, and learn new ways of operating, and
 
the mobilization of others in collective problem solving.
Technical problems on the other hand are those that we know how to tackle. We find solutions in our current structures, procedures, and ways of working. We don't need to re-learn. We already have the knowledge.
By attempting to break the vicious cycle with HR tactics we have fallen right into this trap. It's not to say that some technical fixes aren't important. In fact, there are many issues tangled in the cycle that we do know how to fix—and by the way, we should get started right now because they are exacerbating the issue. We talk about many of these technical fixes in the report's calls to action. For example:
From executive transitions management we have learned how to successfully handle leadership turnover and properly onboard new leaders.




The fund development field has articulated a deep body of knowledge and has taught us that fundraising requires a specific skill-set and expertise.

"The most common cause of failure in leadership is produced by treating adaptive challenges as if they were technical problems"
- The Practice of Adaptive Leadership by Heifetz, Linsky, and Grashow

Our colleagues in human resources have provided us with good performance management practices like tailoring job descriptions with relevant competencies, setting realistic performance goals, and providing staff with leadership development opportunities.
A New Mental Model
While we get to work on some of the technical fixes named above we have to be careful not to neglect the adaptive challenge that fuels the cycle. Of course this is the hard part. Like a true adaptive challenge, it is bigger than any one person or organization. The failure of leadership in this case is not individual, it's collective. But it's also an opportunity.
The Opportunity
We know that we can interrupt the cycle because there are a number of organizations that have figured it out. They have a healthy culture of philanthropy in place, they practice shared fundraising leadership, and they have invested in their infrastructure. As a result, their fundraising activities are very successful.  In the report we call them "high-performers." In Switch: How to Change Things When Change Is Hard, the Heath brothers call them "bright spots."
Throughout the course of this project, I learned so much from these bright-spot groups—about fundraising, yes, but also about the opportunities that I just didn't see as clearly before. Part of the work of adaptive leadership is to name the entrenched issues. We all know that challenges that go unnamed remain elusive. I'm grateful to our terrific advisory committee and focus group leaders for helping us name the challenges described in this report and guiding us to see the opportunities in front of us.
One tremendous opportunity begins the calls to action in the UnderDeveloped study:to embrace fund development and adopt a mental model shift across the sector. We hope you will help us do that -- read the report, reflect on how these issues play out at your organization, and join the national conversation we have planned for later in the spring.
By Marla Cornelius, Co-author of UnderDeveloped and Senior Project Director, CompassPoint.
---
Resources