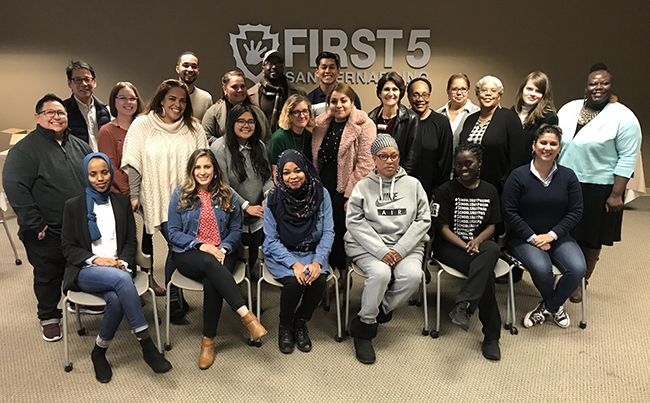 The 2018-2019 Next Generation Leaders of Color Inland Region Organizational Strengthening Program Cohort
THE NEXT GENERATION LEADERS
OF COLOR INLAND REGION ORGANIZATIONAL
STRENGTHENING PROGRAM
 
This program builds off of the the first phase of the NGLC Inland Region Program Leadership Development Program and brings together several nonprofit teams from across the Inland Region* to focus on strenghtening organizations, so they can be even more impactful in their efforts for positive social change in the region. 
---
*We are using "Inland Region" to describe what's usually called the Inland Empire (which includes, but is not limited to, Riverside, San Bernadino, Coachella, and some adjacent areas).
PROGRAM OVERVIEW
 
How can we create organizational conditions where leaders of color can thrive, bring their whole selves to work, and ultimately make an even bigger contribution to social change efforts in the region? This program centers an approach to strenghtening teams and organizational structures that puts a race, power, and privilege analysis at the center. 
Each participating team defines an organizational challenge that is meaningful for them to work on throughout the course of the program in service of that goal. They will get support from CompassPoint and a community of peers to explore topics like leadership and supervision, team development, and resource management. Teams also receive funds to help support growth and learning at their organizations so that change efforts can take root and have a lasting impact. 

Who Participates?
 
This program is designed for teams working in nonprofit organizations in the Inland Region who are committed to social justice and health equity. The teams in this program are multiracial and include leaders of color and white allies.

2019-2020 Participating Organizations
PROGRAM GOALS


Strengthened Relationships 
Strengthen interpersonal skills and practices that support trust-building and deep collaboration.
 

 Improved ability to work in teams and foster strong team communication practices.
Increased Resourcefulness
Build greater awareness of personal, organizational, and regional strengths.
 

Develop tools and new ways of thinking about generating, navigating, and managing resources for sustainability.​
Increased Resilience
Acknowledge and activate practices of self care and renewal as crucial elements of sustainable leadership.
 

Deepen consciousness around the impacts of racism, sexism, homophobia, and other forms of oppression and develop practices to heal from trauma.

A VISION FOR THE INLAND REGION

In this photo gallery, members of participating organization from NGLC IR and members of the Inland Region community share what their hopes for a healthy, equitable communities that center diginity and justice.