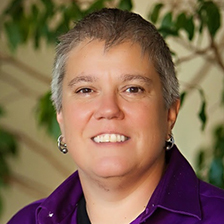 About Sue
Sue has worked in program positions, as well as in technical support and network administration in and with non-profit organizations since 1996. Sue's interest in ending oppression in all its forms began in the feminist movement of the 1980s and continues in her work as a trainer for CompassPoint and in her involvement with Buddhist and LGBTQI communities in the Bay Area and nationally.

As Director of Operations and Miscellaneous Stuff at Sustainable Economies Law Center, Sue ensures the organization's office space and internal operations contribute to the wellbeing of staff, and the effectiveness of Sustainable Economies Law Center's programs .
Sue has spent 25 years working in the nonprofit sector in a variety of program and administrative roles and feels it's  her professional destiny to advance The Law Center's mission. This feeling is fostered by her personal/political value alignment with The Law Center's structure and this opportunity to develop and share the lessons learned by the Law Center's practice of worker self direction and deep democracy . Sue's community activism is rooted in understanding and minimizing the impact of class and classism and is based on the principles of feminism and anti-racism.