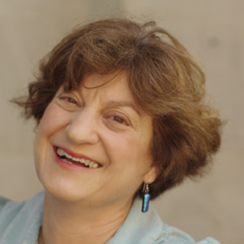 Principal, Dramatic Strides® Consulting
Yael Schy, MSW is a dynamic speaker, author, trainer, facilitator, coach, and organization consultant known for her creative approach to organizational learning and development. Ms. Schy has a Master's Degree in Social Work with an emphasis in Community Organization, graduate certifications in Organizational Psychology and Training/Human Resource Development, a Bachelor's Degree in Psychology and Theater Arts, and is a Certified Somatic Coach. She is principal of Dramatic Strides® Consulting, specializing in leadership development, teambuilding, communication skills, strategic planning, and creative decision-making techniques that help people and organizations move forward together. Ms. Schy also serves as a faculty member at the American Management Association and at City College of San Francisco.
Yael has over 20 years of experience as a nonprofit manager and community organizer, and has spent more than 30 years as a performer and teacher in theater and dance. She brings a unique perspective by incorporating her improvisational theater and dance experience into active communication skills training and teambuilding in the workplace. Her unique Teamwork Tango® workshop, which teaches leadership and teambuilding skills through the metaphor of partner dancing, has been presented at numerous professional conferences and organizations in the United States and abroad. In addition, Yael utilizes her many years of experience in building community coalitions as a model for helping organizations build inter-departmental alliances and foster collaboration. She is co-author of the book, Teamwork Tools: A Revolutionary Approach for Managers and Trainers (Kagan Publishing, 2008). Yael has a demonstrated track record in assessing communication needs of both individuals and organizations and in developing innovative strategies that meet personal and organizational goals.