 Whether you are building your own ability to lead, moving your organization forward, contributing to a bigger movement (or all of the above), one thing is certain: the choices we make shape our stories as changemakers. At CompassPoint, we work with leaders and organizations to define and realize your stories by providing you with the best tools for personal and organizational sustainability; sound, strategic decision-making; and supportive, strength-based leadership approaches – and all contributing to the story of greater social equity.
In this annual report, we hope to inspire how you think about and direct your own story by highlighting those of some of our recent clients.
After all, by helping you shape your story, we continue to write ours.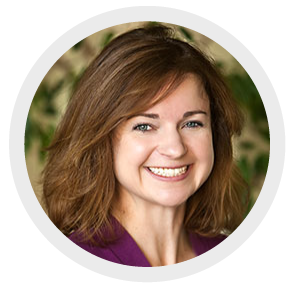 Jeanne Bell, CEO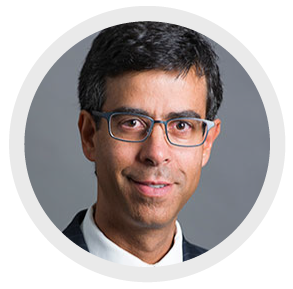 Paul Buddenhagen, Board Chair "We were lucky. We had each other," Nicholas says at the start of the video. By the end, it's abundantly clear that the community is lucky to have him.
In "Taking inspiration," Nicholas Hatten recounts the devastation AIDS left behind as it swept through his community of friends in California's Central Valley and how it led him to take ownership of his own story to create the San Joaquin Pride Center. Now a thriving organization serving the LGBTQQIA community in San Joaquin County and surrounding areas, the Pride Center is a safe and welcoming space, providing resources that enrich body, mind and spirit, and educating the public in tolerance and respect for all people within the LGBTQQIA community.
CompassPoint was proud to work with the San Joaquin Pride Center in 2013 and 2014 on a strategy process that culminated in the development of an organizational theory of change, a rich one-page framework that the Pride Center will use to guide its strategic decision making into the future. This work took place as a part of the Community Leadership Partnership, a multi-year initiative funded by The William and Flora Hewlett Foundation, The James Irvine Foundation, and The David and Lucile Packard Foundation, focusing on the strategic development of Central Valley organizations serving minority or underserved communities. "When there's a lack of diversity on a board that serves primarily people of color…[t]he board isn't always able to make the best decisions because members don't have the lived experience to make informed choices."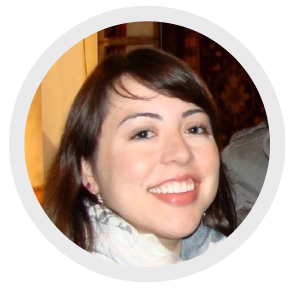 Veronica Flores Malagon
What would you do if a move uprooted you from your job and community? For Veronica Flores Malagon, advocate and activist for youth and multicultural leadership, it meant taking this new turn in her story as an opportunity to write the next chapter of her service to children, youth, and immigrant communities. Her move brought her in contact with CompassPoint and our Multicultural Board Leadership Academy where she was a member of the inaugural class. This program elevates the voices of people of color on nonprofit boards by preparing them for board service.
With her commitment to the youth and the community, Veronica is helping to rewrite this story through her leadership and actions. CompassPoint People, vignettes of a cross-section of clients and partners, brings to life the story of who we are as an organization by featuring who we work with, how we work with them, and the stories of impact that we contribute to every day--one person at a time.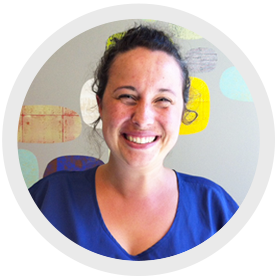 Aileen Joy
Facilitation Skills workshop participant and HR Professionals Network member
What brings you to CompassPoint?
"I'm an office manager at Tenants Together, California's only statewide organization for renters' rights. In my role, I wear a lot of hats, including facilitating our staff and department
meetings. I really enjoy working with Compass Point. In addition to attending workshops on
occasion, I'm also a member of the HR Network. It's a lifesaver. The HR listserve is especially
helpful; I get to ask all my hard questions and connect with a great group of people."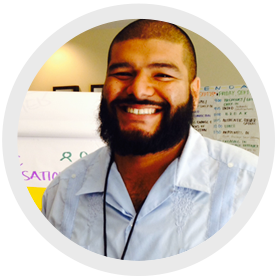 José-Luis Mejia
Associate Director at Transition Age
Youth

SF
www.taysf.org
Leadership Development Program for Manager and Executives Serving Transition-Age Youth participant
What motivated you to get involved in
your

line

of

work?

"I was first motivated to get involved in youth development and policy work by an urge and sense of responsibility to reverse some of the damage I contributed to as a youth involved in violence and the underground street economy. I am now motivated to address the root causes of intergenerational violence and poverty at an interpersonal, societal, and systemic level."

Who is someone who has inspired you in
your

career?

"In my career, I have been inspired by all people who stand in solidarity with the most oppressed. Someone who does this with the love I strive to live up to is mi abuelita (my grandmother) Antonia Flores."

What's been your biggest takeaway from
the

TAY

program?

"My biggest takeaway from the TAY Leadership Development Program is that leadership is not really about a position or authority, but a process of change to be engaged in by all people from all walks of life. I loved this!"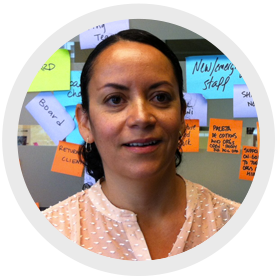 Adriana Rocha
Practice Director at CompassPoint
Consultant and Trainer in Strategy and Governance
What does social equity mean to you?
"It's a society where everyone—regardless of race, class, gender and gender identity—has
equal access to opportunities and resources and is valued and respected for their experiences and perspectives. A society where we are free of violence and oppression."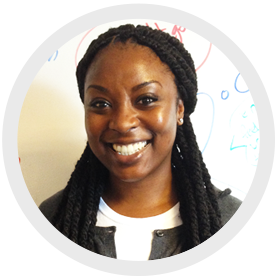 NaTisha Hutson
District Coordinator for Hayward Unified School District at SEEDS Community Resolution Center
www.seedscrc.org
Participant in our Trainers Retreat for Nonprofit Consultants and Facilitators
What inspires you to do your work?
"What inspires me to do the work that I do, which is restorative justice work, is a sense of responsibility to 'lift as I climb.' That's how you sustain a productive society. If I can't give back, then I feel like my life is wasted."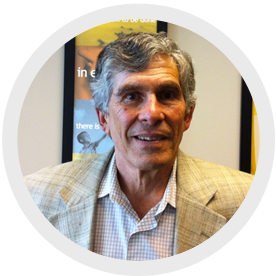 Chuck Greene
CompassPoint Board Member
What keeps you connected to CompassPoint?
"I've worked with CompassPoint for more than 20 years – as a colleague, funder, interim executive director in 2006-07, and for the last six years as a board member. For me, the only thing more compelling than the exceptionally talented and passionate staff and board, is the successful execution of our Theory of Change – a bold vision to achieve social equity through partnerships across nonprofit leaders, organizations, and networks and a 100% commitment to growing a healthy pipeline of diverse leaders for the sector's future."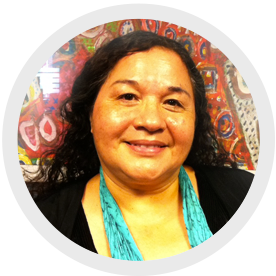 Cecilia Moreno
Case Manager Dolores Street Community Services
www.dscs.org
Introduction to Coaching Skills workshop participant
What's the most exciting thing about your work?
"I am most excited about seeing people's lives change for the better and being a part of that – Seeing people's faces change from despair to having hope. I think if I could have one super power it would be to have affordable housing for everyone."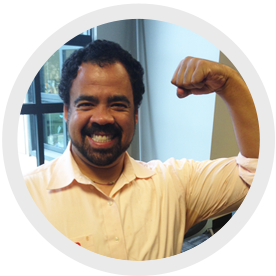 Patrick Brown
Sr. Academy Program Manager
at the Greenlining Institute
greenlining.org
Participant in our Trainers Retreat for Nonprofit Consultants and Facilitators
What inspires you to do your work?
"I'm inspired by the people who came before me and the generations that will follow me."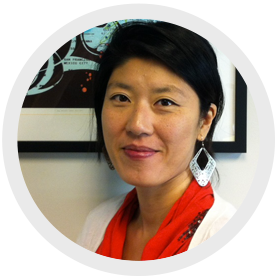 sujin lee
Project Director at CompassPoint
Consultant, Trainer, and Leadership Coach
What's one thing that might surprise people about CompassPoint that they might not know?
I think how funny people are here. CompassPoint can come across as really serious because there are a lot of high achievers here. People are really just fun and funny and creative. I think if people knew the breadth of practical jokes that happen here, they'd really appreciate that.
What's an exciting challenge you're eager to
take

on?

There's a connection between letting things go and letting things emerge from the group— where the group wants to go, how they want to bond, what they want to get out of the experience, so I think that's exciting about the program for leaders in the racial justice field that we're working on with the Akonadi Foundation. There's an aspect of co-designing the program with participants.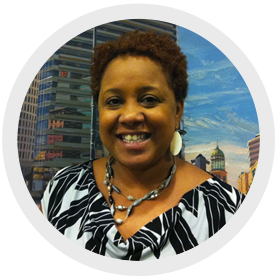 Shria Tomlinson
Next Generation Leaders of Color Program participant
What's the most exciting part of your job?
"I get to work with young people who have chosen education as their vehicle to success. I work with young people who are motivated and truly believe in education as an equalizer and give that 110% despite a lot of obstacles and not seeing a lot of successful templates in their community. The way they forge ahead is amazing and inspiring and it gets me out of bed."
What's been a takeaway from going through the NGLC program?
"It truly is a mindset shift to really step into power. A lot of times we get in our own way which prevents us from stepping into and fully utilizing our unique strengths and talents and tapping our full potential. That's been a huge takeaway and I've been working on that so I'm a better resource for myself, my students, and the team I support."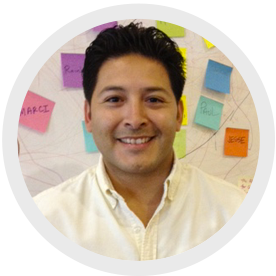 Vincent Marquez
Program Director
at Jewish Family Services of San Diego
www.jfssd.org
Strong Field Project Leadership Development Program participant
What are you most excited to take back to
your

organization?

'How we develop a trusting network and proactively manage conflict and tension when it arises so we can strengthen our network toward our collective impact.'