COACHING SKILLS FOR NONPROFIT LEADERS
Developing People to Achieve Your Mission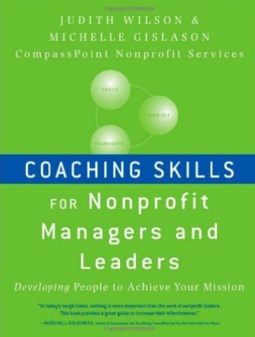 Based on Judith Wilson and CompassPoint's popular coaching skills workshop, this practical guide provides nonprofit managers with an understanding of why and how to coach, how to initiate coaching in specific situations, how to make coaching really work, and how to refine coaching for long-term success. The first coaching book focused on nonprofit managers, this book is for those who manage others in any nonprofit setting and are seeking tools to engage, support, and develop their staff.
Read more and order your copy
now.
For bulk sales, contact specialsales@wiley.com.
For more information contact Dora Ajca at DoraA@compasspoint.org or 415.541.9000x338.


Here's what nonprofit leaders are saying about
Coaching Skills for Nonprofit Managers and Leaders:
"Rich with examples and practical advice, the authors make a compelling case for how social sector leaders can use coaching to unleash new potential in staff while enriching managerial relationships."
– Kathleen P. Enright, President and CEO, Grantmakers for Effective Organizations
"As an Executive Director of a small and very diverse staff, this book provides practical tips and helpful tools on how to work with staff to build on their strengths – creating a stronger team, increasing organizational capacity, and developing future non-profit leaders."
– Ellen Wu, Executive Director, California Pan-Ethnic Health Network (CPEHN)
"If you want to become the boss you always wished you had but never did, read this book."
– William P. Ryan, Research Fellow, Hauser Center for Nonprofit Organizations, Harvard University
Coaching Skills for Nonprofit Managers and Leaders can be used by the coaching novice as a thorough topical overview or by those more experienced with coaching as a quick reference or refresher. Learn why coaching is emerging as a critical leadership competency of top managers.