The Fundraising Bright Spots Program: Making Fundraising Work for You
"I encourage other organizations and leaders to feel a confidence and a comfort in focusing on what you do and how you do it and to trust that that will connect you with other likeminded people." 
—Karuna Jaggar, Executive Director, Breast Cancer Action


THE FUNDRAISING BRIGHT SPOTS PROGRAM: MAKING FUNDRAISING WORK FOR YOU
 
What if fundraising was inspiring and energizing instead of frustrating and depleting? What could happen if you reset your expectations around raising money, building relationships, and engaging communities to move your mission forward?
Through the Fundraising Bright Spots Program, leaders from social change organizations will learn, adapt, and apply practices from successful grassroots fundraising models and individual donor programs highlighted in our Fundraising Bright Spots report to inspire and elevate their own efforts. 
THE APPLICATION PERIOD IS CURRENTLY CLOSED. 
Learn more about our other leadership
 development programs here.
 
"We don't have a singular development plan. We have a system." 
—Ari Wohlfeiler, Development Director, Jewish Voice for Peace
PROGRAM OVERVIEW
 
CompassPoint's 8-month-long intensive, will support your organization's exploration, development, and implementation of a shared leadership approach to fundraising that aligns to and builds on your organizational values, strengths, and identity. 
Research from our latest report, Fundraising Bright Spots, shines a light on how organizations that run successful individual donor programs thrive by taking on fundraising in a way that is:
Core to the organization's identity
Distributed broadly across staff, board and volunteers
Based on authentic relationships with donors
Characterized by persistence, discipline, and intentionality
But how can these values play out for your organization when it comes to developing your own fundraising strategy? The Fundraising Bright Spots Program will help leaders from social change organizations activate practices from successful grassroots fundraising models and individual donor programs highlighted in the Fundraising Bright Spots report. Get the content, expert guidance, and support you need to spark deep shifts in how you think about fundraising, and ignite a new plan of action that can sustain your organization's social justice agenda now and for years to come.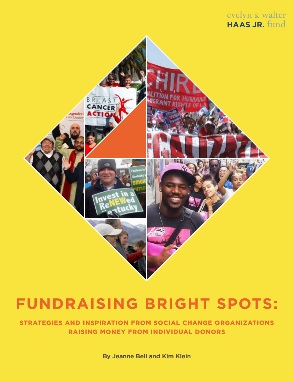 Fundraising Bright Spots
This new report co-authored with Klein & Roth Consulting for the Evelyn & Walter Haas, Jr. Fund's Resetting Development Work Group delves into the experiences and approaches of 16 social change organizations that have established successful and sustainable individual fundraising efforts. 
What can we learn from these organizations? Learn more about the report here. 

ABOUT THE PROGRAM
 
Twelve organizations (with 2 participating staff each) will meet over a period of 8 months to learn together through in-person gatherings, hands-on practice that puts fundraising strategies to work, and peer coaching sessions.
Through the program, you will achieve the following learning outcomes:
Skills/Knowledge:
Clarify your organizational business model, identifying and creating shared understanding of your "primary and secondary" income strategies.
Achieve greater clarity around which fundraising strategies you are pursuing and why?
Make meaning of donor data to guide your fundraising
Systems:
Improve or implement fundraising systems by working to:

Clarify data collection strategies
Institute practices and habits that will contribute to better understanding of organizational fundraising data
Integrate development principles grounded in current field knowledge.

Create a documented plan to distribute fundraising activities throughout the organization 

Clarify each person's role
Culture:
Identify how fundraising lives both inside and outside the organization
Understand how fundraising can build power in your community, movement, and in the organization
Be able to name organizational culture shifts required to support your plan

Program Dates:
 
Participants must be able to attend all sessions. All sessions will take place at CompassPoint in Oakland. Get directions here. 
April 13, 2017 - (9am to 11am)
2-hour pre-program webinar for participants (via computer/phone)
May 4, 2017 (9:30am – 5pm)
Session 1: Getting Grounded
& Bright Spots Principles
Location: CompassPoint
May 25, 2016 (9:30am – 5pm)
Session 2: Distributed Fundraising:
Leadership Roles & Skills
Location: CompassPoint
August 10, 2017 (9:30am- 5pm)
Session 3: Fundraising Systems:
Working with Intention & Rigor
Location: CompassPoint
September 7, 2017 (9:30am- 5pm)
Session 4: Culture Shifts:
The Wheel of Change
Location: CompassPoint
October 5, 2017 (9:30am – 5pm)
Session 5: Your Plan of the Future
Location: CompassPoint
Pricing:

Organizations will pay a fee for participation determined by the following sliding scale based on organizational budget size. (Fee is per organization, not per individual.)
Fee A - $900
Organizations with budgets under $999,999/year

Fee B - $1,500
Organizations with budgets between $1 million and $4 million per year

Fee C - $2,200
Organizations with budgets over $4 million per year

Eligibility:
 
Participants should meet the following organizational and individual profiles.
Organizational Profile:
You must be a social change organization (e.g., work in, but not limited to, one of these areas: racial justice, economic justice, environment, education, youth, arts and culture, violence prevention)
You must commit to sending the same two participants to the entire 8-month program
You have identified staff leading fundraising efforts (organization may or may not have a development director)
You have a desire to distribute fundraising across roles within the organization and build a culture that embraces fundraising across staff, board, and volunteers
You have the capacity and energy to start making changes
You are not new to individual giving
You can identify your current revenue streams and fund development activities
Individual Participant's Profile:
Both individuals can commit to all in-person trainings and webinars over the 8-month program
You can commit to an additional 4 to 8 hours of time per month to implement ideas, skills, and structures related to organizational change
You are not brand new to fundraising
One or both of the two organizational representatives participating must have the power and/or authority (including "social power/influence") to implement and lead changes at the staff and board level
You are open to ideas of shared leadership across the organization/community
Let's Talk!
Want to learn more about The Fundraising Bright Spots Program? Call Project Director Nelson Layag at 510.318.3733 or email him here.