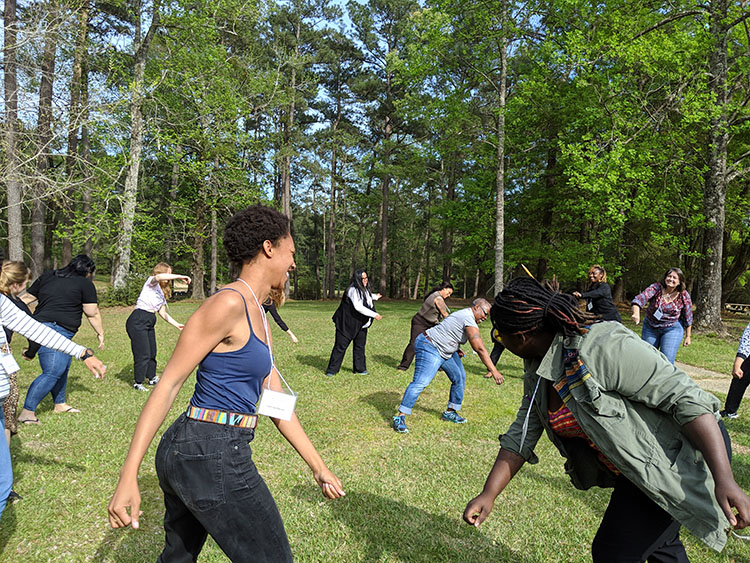 Members of the 2019 HIVE Cohort participating in a group activity at a retreat site in Louisiana. 
HIVE Will Launch Applications in Late October!

Leadership Development Program & Network Building for Louisiana Reproductive Health, Rights, and Justice Leaders
---
The HIVE (Healing, Inspiration, Voice and Equity) Leadership Development and Network Building Program, facilitated by CompassPoint and funded by The David and Lucile Packard Foundation, will launch applications for its fourth full cohort of Louisiana reproductive health, rights, and justice leaders in late October 2022. 

Just as in natural ecosystems, creating hives is critical and urgent in this hostile moment of our history. Leaders need environments that can nourish them to build greater Healing, Inspiration, Voice, and Equity for themselves and for others. 

This will be a yearlong hybrid program (with in-person and online components) that takes place in 2023–beginning in January of 2023 and concluding in December 2023. All program components will take place online or in Louisiana.
The application will launch in late October, 2022.
To receive the application when it launches, please sign up here for updates >

The HIVE Leadership Development Program is for reproductive health, rights, and justice leaders in Louisiana.

There is no cost to participate.

Help us spread the word by sharing this announcement with reproductive health, rights, and justice leaders and organizations based in Louisiana (especially leaders in rural areas across the state) that you think would be a good fit for this type of leadership program! 

For questions about the program, please email Emily Smizer at emilys@compasspoint.org.

If you'd like to partner with us on spreading the word to reproductive health, rights, and justice organizations in Louisiana, please email Maro Guevara at marog@compaspsoint.org.
 

Who Should Apply? 

For this new cohort, we welcome and encourage applications from emerging nonprofit and social justice leaders in Louisiana organizations committed to reproductive health, rights, and justice.

This includes (but is not limited to), nonprofit leaders, grassroots organizers, health providers, policy workers, youth workers, birthworkers and doulas, sex educators, and family advocates. 
We do not define "leaders" by positional power and we welcome applicants from across a broad spectrum of positions and roles. 
We are seeking applications from leaders who are still in a state of growth, who are open and hungry for learning, and who have some level of influence in their organizations and communities, which may include:
leading people and managing resources

organizing and building community toward systems change

leading or heavily influencing the design of organizational systems, culture, and practices

managing programs, projects, or campaigns
We also strongly encourage those working at the intersections of reproductive health, rights, and justice and other movements–for example, gender justice, economic justice, environmental justice, racial justice, disability justice, and abolition–to apply.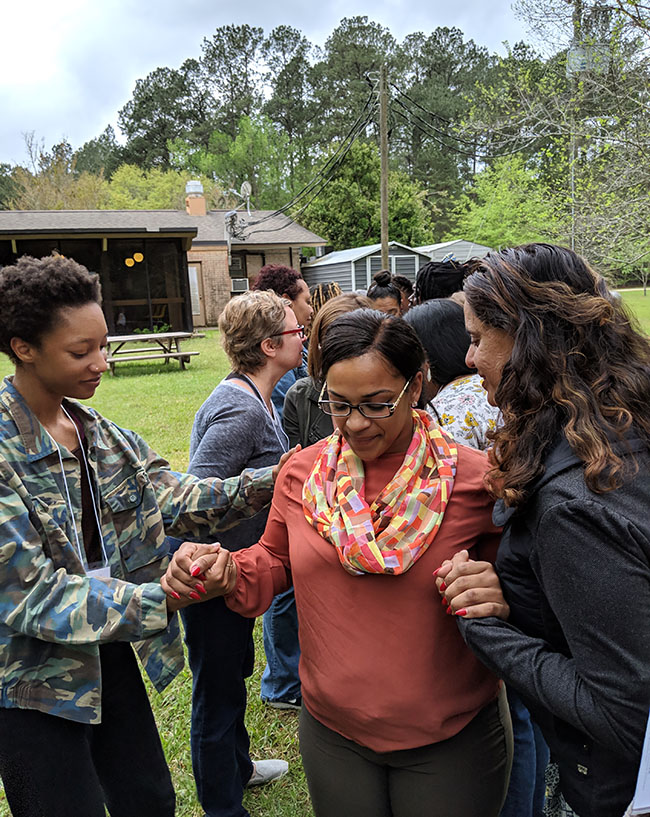 HIVE members sharing affirmations with one another during a retreat in Louisiana. From left to right in the foreground: Caressa Chester, Shametria Gonzales, and Asha Mehta. 
HIVE centers the experience and participation of BIPOC (Black, Indigenous, and People of Color participants) and we'll continue to grow the network with this frame. 
We are looking for leaders who understand the work of reproductive health, rights, and justice from both a lived experience and learned knowledge as we know people closest to the problems hold the greatest wisdom toward the solution.   

For this new cohort, we are also striving to recruit a broad mix of leaders from across Louisiana, from both urban and rural communities. Please help us spread the word by sharing this page with your networks!

What is HIVE? 
 
Since 2017, over 40 leaders committed to reproductive health, rights, and justice from across Louisiana have participated in HIVE.

Leaders come together to support one another emotionally, intellectually, and practically while advancing their practice of leadership in three main areas:
radical vision,
relationships,
and resourcing.
Specifically, leaders:
Grow creativity and vision in leadership, individually and in the broader movement.
Deepen relationships and become a part of a growing network of leaders who are "walking their talk" by living values of liberation.
Expand perspectives and become more skillful at resourcing movement work through multiple forms of capital (social, financial, intellectual, material, etc.).

Program Components
 
Please note, there is no cost to participate.

The program will include three in-person retreats (in Louisiana), online webinars, peer-to-peer virtual calls, individual coaching, and individual development planning.

Participants will build a wide range of liberatory leadership skills from radical visioning to managing time and energy, team development, coaching and supervision, and resourcing movement work.

They will also build power by building community, joining a growing network of HIVE participants.
---
This program is made possible with generous support from The David and Lucile Packard Foundation.