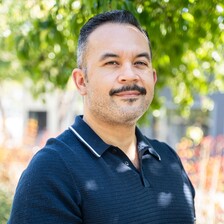 About Lorenzo
Lorenzo Herrera y Lozano is a writer, organizational strategist, and Co-Executive Director of Justice Funders, an economic justice organization working to transform philanthropy toward a Just Transition.
Early in his journey, Lorenzo was confronted with the contradictions between the radical, inspiring mission statements of organizations and the mistreatment and exploitation of their workers. Rejecting grind and self-sacrificing practices in the name of—and antithetical to—social and racial justice, he turned to the wisdom of queer/women of color and began nurturing an organizational development and leadership praxis rooted in two fundamental beliefs: 1) to do our work well, we must support each other in being well; and, 2) to pursue a shared vision, we must seek to embody that vision in the present.
Building on two decades of nonprofit management and governance experience; graduate training in Cultural Studies, Organizational Leadership and Ethics, and Chicanx Studies; and a practice in neuroscience-informed asset-based coaching, Lorenzo applies these beliefs to every aspect of his work—from the infrastructures we create; to the design, delivery, and assessment of programs; to coaching and supervision and professional development; to the questions we ask and the reflections we offer one another; to the wellness strategies woven into team collaborations.
Raised in the Bay Area and northern Mexico, Lorenzo makes queer home with his partners, two rapidly growing teenagers, and a chihuahua in unceded Ramaytush/Ohlone land (Mission District, San Francisco).