The Fundraising Bright Spots Program

THE FUNDRAISING BRIGHT SPOTS PROGRAM: MAKING FUNDRAISING WORK FOR YOU
 
What if fundraising was inspiring and energizing instead of frustrating and depleting? What could happen if you reset your expectations around raising money, building relationships, and engaging communities to move your mission forward?
Through the Fundraising Bright Spots Program, leaders from social change organizations will learn, adapt, and apply practices highlighted in our Fundraising Bright Spots report to integrate fundraising more strongly throughout their organizations systems and people skills.  
THE APPLICATION PERIOD IS CLOSED. 
Keep an eye on this space for future program announcements.
"We used to say yes to everything—lots of events and staff-heavy fundraising activities that didn't have ROI. And, we weren't even talking about goals or strategy. We didn't have direction. We have had leadership changes at the staff and board level and now we have a board-staff partnership to help find the meaningful work. We will be bringing the Fundraising Bright Spots training to our whole staff and board."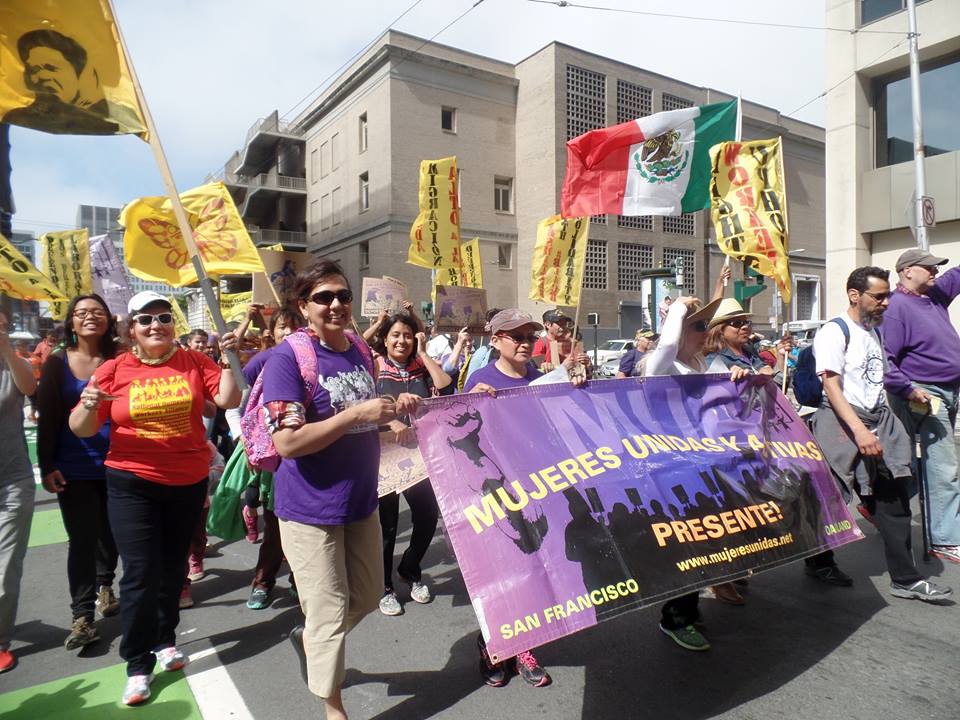 Image courtesy of Mujeres Unidas y Activas, one of the organizations that participated in the research for our Bright Spots report. 
PROGRAM OVERVIEW
 
Please read through the program description below before you complete the application. 
CompassPoint's 8-month-long learning community, will support your organization's exploration, development, and implementation of a shared leadership approach to fundraising that aligns to and builds on your organizational values, strengths, and identity.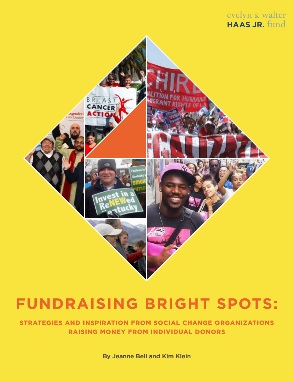 Fundraising Bright Spots
These 16 social change organizations established successful and sustainable individual fundraising efforts. What do their approaches share in common? Explore this report, co-authored with Klein & Roth Consulting. 

Read Fundraising Bright Spots here. >>
ABOUT THE PROGRAM
 
Twelve organizations (with two participating staff each) will meet over a period of seven months as a learning community through in-person gatherings, hands-on practice that puts fundraising strategies to work, and coaching sessions to support new behaviors and perspectives. Each session will be co facilitated by the Bright Spots team providing Bright Spots learning, planning tools, and time for each pair to incorporate learning into action plans.
Along with the group learning sessions, each participating group will be provided a fundraising coach and up to five hours of coaching in between group sessions, on how to activate plans.
The Fundraising Bright Spots program helps each group achieve the following outcomes:
Skills/Knowledge:
Clarify your organizational business model, identifying and creating shared understanding of your "primary and secondary" income strategies.
Achieve greater clarity around which fundraising strategies you are pursuing and why?
Learn peer coaching skills to motivate action and learning within fundraising.
Systems:
Institute practices and habits that support & leverage integrated systems- people communications, development.
Create a documented plan to distribute fundraising activities throughout the organization 
Create new development roles that are adopted beyond position and title.
Culture:
Identify how fundraising lives both inside and outside the organization
Understand how fundraising can build power in your community, movement, and in the organization
Be able to shift group attitudes and beliefs about money to support a culture of giving and asking
 
Organizational Profile for this Program
 
You must be a social change organization (e.g., work in, but not limited to, one of these areas: racial justice, economic justice, environment, education, youth, arts and culture, violence prevention)
 
You must commit to sending the same two participants to the entire 8-month program
 
You have identified staff leading fundraising efforts (organization may or may not have a development director)
 
You have a desire to distribute fundraising across roles within the organization and build a culture that embraces fundraising across staff, board, and volunteers
 
You have the capacity and energy to make changes in roles, systems and practices over the eight months
 
You are not new to fundraising and individual giving
 
You are familiar with your current revenue streams and fund development activities
2018 Program dates
 
Orientation Webinar: 




The program will be launched on a 90-minute webinar so please save this date and time on your calendar: ​
August, 9 2018, 11 am – 12:30 pm
In-person Sessions: 



Location for in person sessions 
CompassPoint Training Room
Oakland, CA 

 


September 27 (9:00 am – 5 pm)


Session 1: Getting Grounded in Bright Spots Principles and Our Cultures of Giving



October 11 (9:00 am – 5 pm)


Session 2: Distributive Fundraising:
Leadership Roles & Skills, Building & Sharing Power.



November 1 (9:00 am – 5 pm)


Session 3: Integrated Fundraising Systems: 
Weaving Communications & Development



January 10 (9:00 am – 5 pm)


Session 4: Shifting Organizational Culture: 
The Wheel of Change and Authentic Relationships



February 28 (9:00 am – 5:00 pm) 


Session 5: Where Your Organization is Headed
Participation Fees
 
Fee A  — $1,200
Organizations with budgets under $999,999/year
Fee B  —  $1,900
Organizations with budgets between $1 million and $4 million/year
Fee C  — $2,600
Organizations with budgets over $4 million/year
Want to learn more about The Fundraising Bright Spots Program? Call Nelson Layag at 510.318.3733 or email him here.