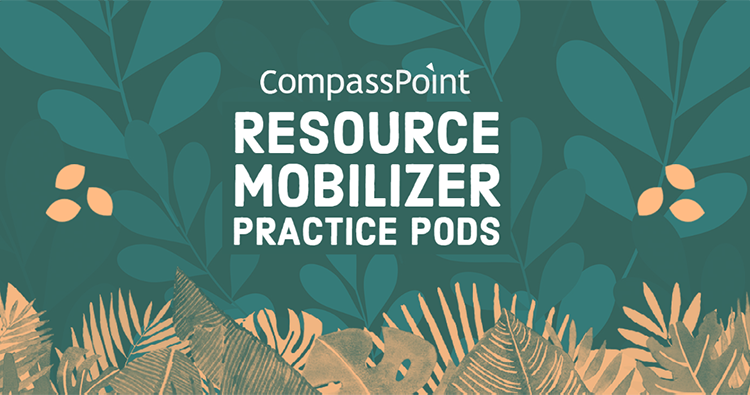 COMPASSPOINT'S RESOURCE MOBILIZER PRACTICE PODS 2023


We're building a network of social justice nonprofit fundraising staff who identify with the role of resource mobilizer and who want to build their knowledge and practice of this role with their peers. 
This year, we're bringing folks together into Resource Mobilizer Practice Pods focused on a deeper exploration of ideas and approaches shared in our From Fundraiser to Resource Mobilizer training and our Resource Mobilizer's Circle.
If you're looking for more space, time, and community to help you put resource mobilization principles into practice, join us! 


What is the role of a resource mobilizer, and how different or similar is it from fundraising and development?
Resource Mobilizers are people who facilitate the flow of both financial and non-financial resources in service of social justice.


 

We are development staff who are actively working to shift our fundraising practices and organizational culture in ways that are more aligned with social and racial justice values and goals. 


 

We are "in the system, but not of the system" which means we need to actively try new ways of communicating and being as we raise funds.  We need peers for mutual learning and support because there aren't neat answers or one roadmap to mobilize resources in more liberated ways!
Who is this space for?

We are building a multiracial peer space that centers Black, Indigenous, and other People of Color experiences and perspectives in resource mobilization.

It's important and valuable to have a foundation in concepts and practices of resource mobilization before applying! We strongly recommend (but don't require) folks to have participated in our From Fundraiser to Resource Mobilizer training before joining. If you are committed and curious about continuing to build resource mobilization practices and principles, this monthly space is for you. 
What Does This Learning Space Look Like in Action?
 
Beginning in July, we will convene up to 35 folks who meet monthly (as consistently as they can) as a large group and in smaller "pods" of people interested in sustained conversation, reflection, and practice along different learning threads (see below).
Dates and Learning Topics
 
Each monthly meeting will include a full group discussion, deeper discussion in pods, and an opportunity to share back with the full group. Each pod will have different learning goals and will be lightly facilitated by a peer convener.

All meetings will be held online via Zoom from 9:30 am - 11:00 am PT (except for the opening session which is two hours long!). Consistent participation brings this community to life! We ask that folks commit to joining as consistently as they can. 
Online Meeting Dates: 

July 26 - [Opening session will be 2 hours, from 9:30 - 11:30 am PT and focus on community building.]
August 16
September 13
October 18
November 8
December 6
How to Participate

To apply to be part of the 2023 Resource Mobilizer Practice Pods: 

Fill out this application form by June 9, 2023 > 

Make sure you are familiar with the refund, transfer, and cancellation policy >
We will respond to folks and let them know if they have been selected by June 14!  
This program is a multiracial space and all are welcome to apply! We will prioritize participation from BIPOC resource mobilizers. 
The first session (30 minutes longer than other sessions) will be Wednesday, July 26, 9:30 - 11:30 am PT. Please make sure can attend all or most of the program dates! 
The fee to participate in this year's Resource Mobilizer Circles is $200. We'll follow up with selected participants with a registration link to secure your spot.

If you have questions about the program, please email stevel@compasspoint.org.  
MEET THE TEAM


Steve Lew
CompassPoint Facilitator

Steve Lew (he/him) organizes resource mobilization for CompassPoint, and as a leadership coach, he supports new and seasoned development staff on their leadership and organizing practices in fundraising and resource mobilization. As a long-time CompassPoint trainer and facilitator, Steve has worked with many organizers, activists, and leaders of color through the Fundraising Academy for Communities of Color, the Fundraising Bright Spots program, and more recently, From Fundraiser to Resource Mobilizer: Changing Our Perspectives and Practices to Shift Power. Steve continues to be in praxis as a volunteer who organizes fellow donors for social movement groups.
 
Allison Celosia
Peer Facilitator
Allison Celosia (she/they/siya) is abundant. Based on unceded Tongva land, they are a fundraiser and a steward for economic justice. She is a second-generation Bisaya American and the proud daughter of immigrants. Allison's professional path is deeply rooted in the nonprofit sector, from arts to capacity building, to youth organizing and immigration policy. Outside of fundraising, Allison is active with local labor organizing. She encourages softness as a strength. They also mill their own flour and do a lot of home-baking projects.


Tracy L. Stewart
Peer Facilitator

Tracy Stewart participated in past CompassPoint and Surge Reproductive Justice resource mobilization trainings and implemented the model at her nonprofit.  She also consults with other small nonprofits on how to use the process. Utilizing food and casual conversation to bring people together, mobilizers learn the philosophy and activation of Healing Justice through their support.


Andrea Cousins
Peer Facilitator

Bio coming soon! 


Rosita Lucas
Peer Facilitator

Rosita has led creative and successful fundraising and communications projects for a range of education, public service, racial, and social justice initiatives. She possesses over two decades of fundraising experience, starting with City College of San Francisco telling data-driven stories through grant-writing, and eventually moving on to UC Berkeley where she managed a team of giving professionals building programs to support students from resource-denied communities. As Senior Director of Resource Development and Finance at Justice Funders, she works to usher in regenerative practices for philanthropy toward racial and social justice through her development and finance role with Justice Funders. Rosita believes in the power of networks and has supported the professional growth of peers through her role as Chair of the Fundraising Council at UC Berkeley; volunteering for Black Funders Network and Women of Color in Fundraising and Philanthropy WŌC.