March 6, 2019
This is the first blog in a series where we're sharing how we've changed at CompassPoint over the last three years to step into a commitment to racial justice, equity, and a vision for leadership that centers liberation. Make sure you're signed up for our newsletter to get the next blogs in our series delivered straight to your inbox!
---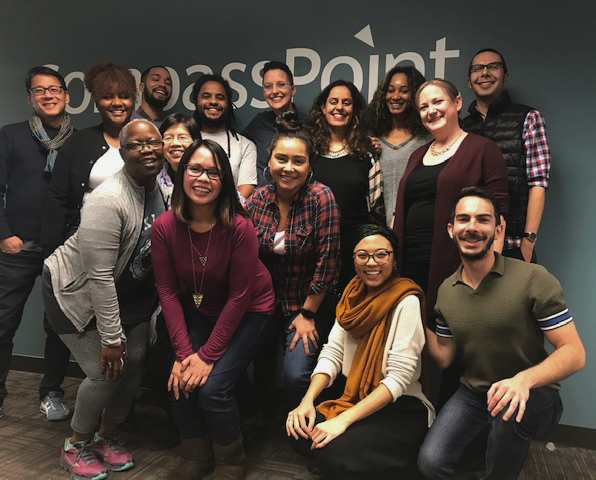 Stories are powerful. They help us process events in our lives. They help us make meaning. They help us share what is most important to us.
The stories that we learn the most from don't necessarily happen in chronological order and they aren't the ones with the most technical detail – they're the ones that reveal the deepest insights about ourselves and the communities we care about.
Over the past few years, as part of our community, you've probably noticed a shift in CompassPoint and how we're stepping into our commitment to racial justice, equity, and a vision for leadership that centers liberation. This shift is part evolution, part revolution, and part transformation. It builds on over 40 years of deep, mindful (and heartful) work by hundreds of leaders who have continually pushed this organization to be a strong, reliable, and relevant partner to social justice leaders.
 
Sharing Our Story
 
Over the next year, we wanted to share a few chapters in this story focusing on how the shifts at CompassPoint started, what's sustained them, and what's still needed as we aspire toward a vision of liberated leadership.
Through our storytelling, we hope to embrace the complexity of organizational and community change. We don't want to oversimplify the narrative by creating one-dimensional characters that fall conveniently into the categories of victim, hero, or villain. You're familiar with some of these traditional tropes – the people with the marginalized identities are always the helpless victims, the people with positional power or identity privilege are always the evil villains, and the person who actively attempts to undermine every power structure is always the perfect hero.
These convenient narratives fail to account for the complexities of power, the pain of internalized oppression, the habits of white supremacy (Kenneth Jones and Tema Okun) that we've been socialized into, and the understanding that hurt people hurt people. 

Embracing Complicated Truths
 
The complicated truth about people, communities, and organizational change is that depending on the situation, we can be in any one of those victim, hero, or villain roles. And in a universe of multiple and contradictory truths, sometimes we can play many roles simultaneously.
So if not to create narratives about heroes, victims, and villains, then what is the purpose of sharing CompassPoint's story? We want to be transparent, vulnerable, raw, honest, and share accomplishments we feel bring us closer towards equity as a community and organization. We want to be better at learning out loud with you, keep the conversation open, and embrace the fact that when it comes to building cultures, systems, and practices that bring us closer to liberation, our best work comes from learning together.
At CompassPoint, we don't have it all figured out – not even close. Like you, we are on a journey toward liberation and freedom. And like many of you, we see racial and gender justice as pathways toward liberation. We don't have a magic formula, a lyrically clever framework, or a visually appealing tool to hand off to you. These aren't case studies and there's nothing off-the-shelf to put into your cart and then plug-and-play within your organization (note: we tried that approach—it was called Holacracy, and that's part of the story we'll share with you). Through our story, our intent is to share some of our pain points and some of our milestones on this journey, while acknowledging that there's a very thin line between a breakdown and a breakthrough. And either way, whether it was a breakdown or a breakthrough (or both), we learned a lot and want to share that with you.
 
Vision, Relationship, and Resources
 
What we're planning to share  is a series of chapters that elevates our learnings, shares some of the raw ingredients that made our shifts possible, and gives you a window into what might be useful to adapt and translate into your own ecosystems (your teams, your organizations, or your networks).
We've organized our story into three interrelated yet unique categories: vision, relationships, and resources. Another way to see these is as purpose, people, and money. Our goal is to elevate the individual, interpersonal, and systemic levers we used to make some of our shifts happen within each of these spheres.
Here's a preview:
Vision
Without radical imagination, we can't have radical change. We've chosen April 2016 as the starting point for our story, as it highlights the point in our journey when we began to name some deep truths through what we were framing as an "adaptive challenge" project. How did it start shaping a shared vision? It gave us an opening to begin to articulate where we were and where we wanted to be. And even though we fall short of our vision all the time – we know that building a vision together is essential to creating a collective sense of belonging. 
Relationships
Breakdowns in systems lead to breakdowns in individual relationships – and breakthroughs in relationships can lead to breakthroughs in systems. Part of the story of our shift is how our vision inspired new systems, structures, and ways of being that have helped us transform how we are in community with one another. Under this umbrella, we will explore our collective learning about white dominant habits, the structures and learning experiences we tried on to try to start challenging those cultural norms, and the impact of Holacracy (a total systems approach for how we organized our work and related to one another).
Resources
Ultimately, our efforts towards liberation fail when we can't talk about how we spend our time or our money.  It's a conversation that moves us from intention into actualization. What you don't concretize in a system or as a matter of practice eventually evaporates. When we share our learning around resources, we will talk about how we re-imagined our compensation structure at CompassPoint and how we are actively tending to our organizational business model – the resource engine that fuels our vision and our liberatory organizational practices – to ensure that we can fully embody our boldest vision in a sustainable way. 
 
Finally, one important element we want to highlight is every single staff member – past and present – who has been part of this community over the last few years has been an essential part of this shift. They've contributed in both small and significant ways. We are at this point in our journey because of their gifts, and we are eternally grateful to them and for them. We thank Jeanne Bell, Amy Benson, Yasya Berezovskiy, Cristina Chan, Marla Cornelius, Paola Cubías, Michelle Gislason, Sarah Gort, Byron Johnson, Nelson Layag, and sujin lee for being integral parts of this journey, even as their paths have taken them beyond CompassPoint and onto new ventures.
 
---
Read the other blogs in our series:
Read More About Recent Changes at CompassPoint: